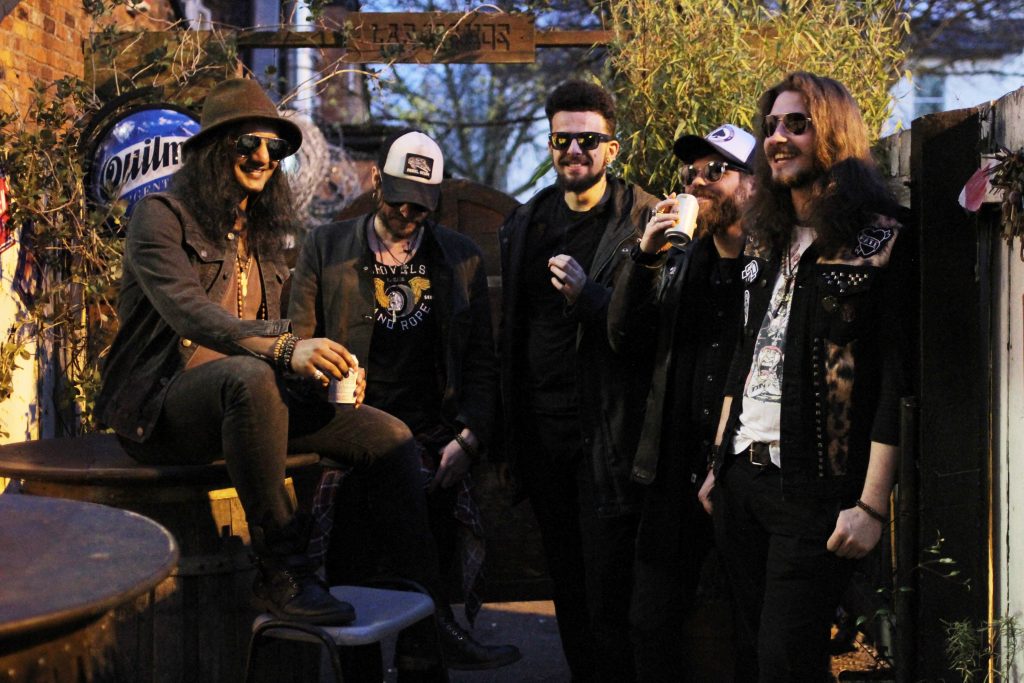 Gorilla Riot are a 5-piece dirty rock n' roll blues machine from Manchester, England.
They play raucous blues based rock, combining elements of grunge, stoner and country to create a full-on high energy rock show. Created by main man, Arjun Bhishma, he surrounded himself with the best talent in Manchester to form Gorilla Riot – creating a 3-prong guitar attack with multi-part harmonies.
Arjun, Liam Henry (guitars & vocals), Charly T. (guitars & vocals), James Degnen (bass), began songwriting and soon entered the studio to record their self-titled mini-album. This set them on their path to deliver their blues-drenched dirty sound that evolved into the acclaimed EP, Six Shots Down in 2017.
Equally at home acoustically or electrically they released their next studio work in May 2018. American Honey Vol 1 saw the guys extend their sound and song-writing prowess with 3 new songs plus an exquisite re-working of their hit song, Last Hymn.
Recent highlights:
Bad Son – featured as Track Of The Week by Classic Rock Magazine / LouderSounds
Down The Road – WON Track Of The Week by Classic Rock Magazine / LouderSounds
Gorilla Riot played Ramblin Man Rising Stage 2018 after winning the public vote
Featured in Classic Rock Magazine – High Hopes 253
Signed to TMR Band Management Aug 2017
Toured the UK as special guests to Dan Patlansky
Signed to Off Yer Rocka Records Mar 2019
What the press say about Gorilla Riot
"Sharp, swaggering cocksure rock! – Classic Rock Magazine
"Look as cool as f**k!" – Classic Rock Magazine
"One of the best new rock bands in the country right now!" – Dave Everley for Ramblin Man Fair
"Gorilla Riot, have dialled back the distortion in favour of an atmospheric, pensive blend of rootsy acoustic layers, electric flourishes and Chris Cornell-nodding vocals. Lush guitar solo too." – Classic Rock Magazine
Formed: 2013
Hometown: Manchester, England
FFO: Dirty Southern Blues Rock
Discography:
Gorilla Riot LP (2014)
Eve Tapes Live EP (2014)
Six Shots Down EP (2016)
American Honey Vol 1 EP (May 2018)
Peach LP (February 2020)
Gorilla Riot are:
Arjun Bhishma (vocals/guitar)
Liam Henry (guitar/vocals)
Charly T. (guitar/vocals)
James Degnen (bass)
LINKS:
http://www.gorillariotband.com
https://www.facebook.com/GorillaRiot
https://gorillariot.bandcamp.com/
https://soundcloud.com/gorilla-riot
https://www.youtube.com/channel/UCu3mgyWoJtmDNK-4YBrnPMA
https://twitter.com/GorillaRiotRock
https://open.spotify.com/artist/5OiiGa3KynCIy8wvrXpVKY